JUNE 13, 2019
INTERVIEW



ATU GELOVANI

Atu Gelovani is a multidisciplinary artist born in Tbilisi, Georgia. After studying architecture, he started photographing and making videos. Then it was in Berlin that he met his friend Skylar Kang with whom he decided to make jewellery and founded READYMADE. He now lives in Hamburg where he studies Product Design at HFBK University of Fine Arts.

Explore the fascinating shapes that Atu is creating through a coherent vision that links an even larger overall project. A style of its own, where the brilliance of the metal resonates alone in the void, where the eye is drawn against the clear line of a chair, where people and spaces become a single movement, the expression of simplicity.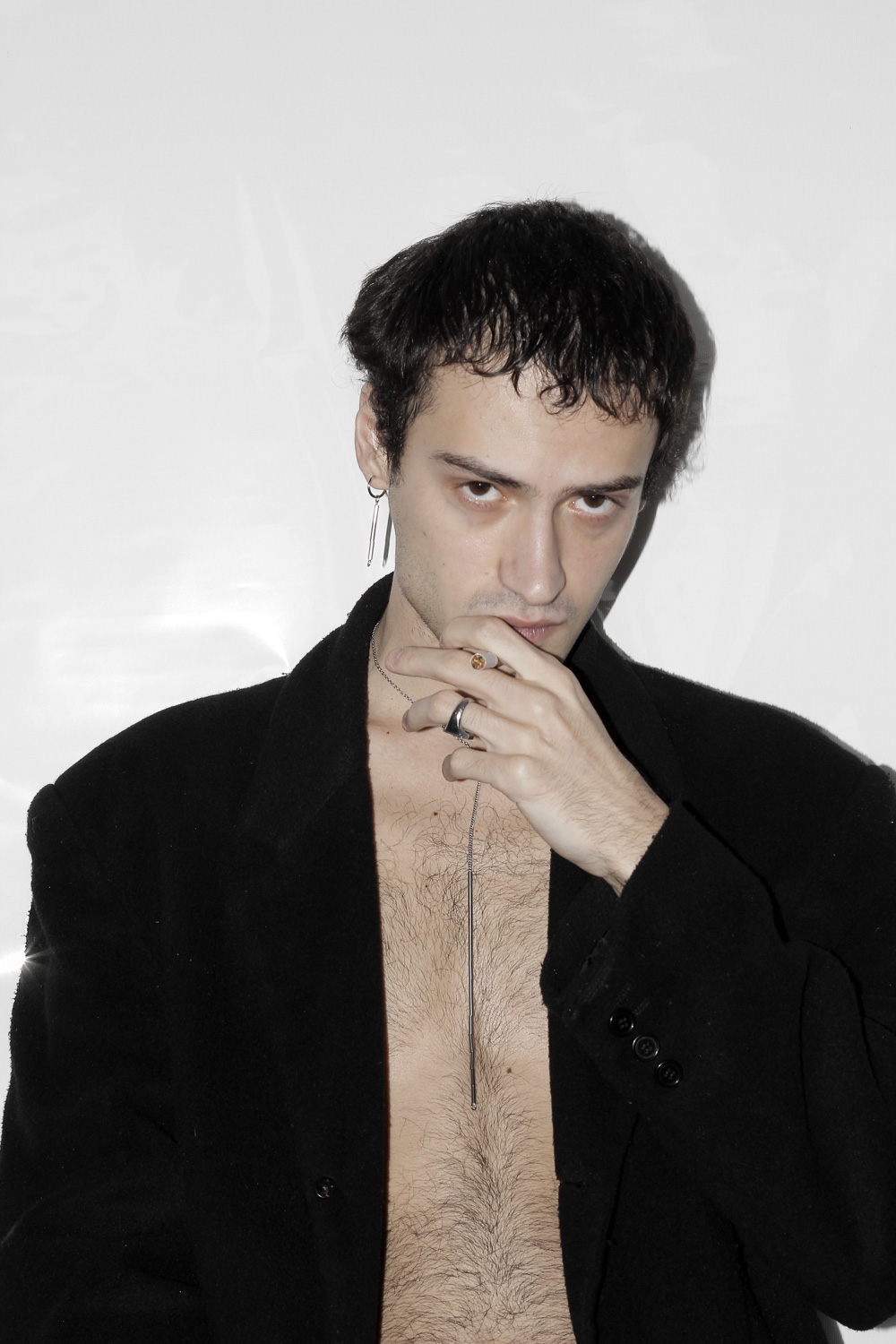 Can you tell us about Readymade. How this project was born?
In May 2018 me and a friend (Skylar Kang) crafted separately some jewellery pieces for a vintage pop-up shop we did in Berlin. It was the first time when we decided to test the waters in Jewellery making. A week later we were approached by a local vintage shop and offered a spot to sell our jewellery. Because of our matching aesthetics and common interests, we decided to collaborate and did our very first collection. So, that's how READYMADE was born as a jewellery brand.

So what attracted you to making jewelry? And what does it bring you, in terms of your creative expression.
My grandmother used to have a box full of jewelry, and even though I knew literally every single piece inside of it, every time I opened it, I was more and more excited about the different shapes and materials. Jewelry has always turned me on, but I never wore them myself, until one day I found the small disk-shaped plates with hole in them at my friend's place (called washer, which you can find literally in every hardware store) and simply putting them on a transparent elastic thread, I had my very first own designed necklace. so, back then, blended with my childhood memories, architecture and different concepts of art, I was into making jewelry without realizing it.

Today, working on a single piece is an experimental and evolving for me, always having "Try again. Fail again. Fail better." Inside my head, which I would say is my motto during the creative process.
You make jewelry, but you also do photography and architecture. In your mind, what is the main idea that unites them all? And what is the overall aesthetic you want to create?
All the three are linked to each other with a lot of basic ideas and principles from which shapes, forms, materials and textures are playing a big role for me.

Architecture, or in general surroundings, is like a base, an exploration space, complexity of particles, from where I try to escape and catch the specific pieces on my way, which are at the very moment inspirational for me. Doesn't matter I am having a shooting, making a new piece of jewelry or working on an architectural project, the process of creation evolves in a same way. In the end, the idea of expression, which will be emptied from standards and boundaries is the most important.

All the projects, no matter in which medium I am working, are experimental and different from each other, but in the end, I think I am trying to achieve the aesthetic of simplicity through this complexity.
In each of these artistic fields, which artists do you find most inspiring? And who have most influenced the person you have become today?
Ah, it will take me ages to name all of them, but I think I was always inspired by some of the elements from almost every movements because I think all of them had smth special. It's like a chain, from which if you take one particle everything loses its point.

Dada, Bauhaus, Futurism, Constructivism and a lot more. Duchamp and Man Ray. Corbusier, Mies van der Rohe, Peter Zumthor and the whole concept of Less is More. Ren Hang, Guy Bourdin, Margiela, Ann Demeulemeester, Viviane Sassen. Those are the short amount of artists who came to my mind right now.

In general, people around me, friends, family, and even strangers with the experiences connected to them played a big role in becoming a person I am today.
Can you tell us about your latest project?
"CONVULSION / what is going on when something goes down the wrong pipe?" will be about warning signs, attention, breaking the rules, taking risks and in general reaction and behavior of a human being to something that is forbidden, not really allowed or just dangerous.